Cryo Cold: The European Treatment Making Its Way to North America
Although fairly popular in Europe, North American's are just beginning to learn the benefits of the Cryo Cold Chamber – a signature treatment of the KurSpa at Sparkling Hill Resort.
While originally known as an anti-inflammatory treatment for rheumatoid and osteoarthritis, Cryo Cold Chamber treatments have been noted in easing a range of symptoms related to neurological diseases, as well as having a sedative effect on autoimmune and chronic skin disorders such as psoriasis and neurodermatitis. The treatment is also becoming increasingly popular among athletes looking to aid in recovery after an injury or surgery.
Get Ready to Get Cold
As the name of the treatment suggests, Cryo Cold Chamber treatments involve immersing your body in a -110°C / -166°F chamber.
The Wellness Clinic at KurSpa is the only location in North America to offer the three camber approach to Cryo treatment. In the first two chambers, guests quickly become used to the cold and any residual moisture on their skin evaporates so that the third chamber's -110°C / -166°F is quite bearable due to the almost 0% humidity.
An experienced Kinesiologist or spa professional remains inside the chamber to encourage you while you move to the upbeat music for three minutes in the frigid third chamber.
Why it Works
In the Cryo Cold Chamber, the blood vessels quickly build a protection zone while your core body temperature is maintained. The effect of this whole-body treatment is systemic, giving the nervous and circulatory systems a boost during and after the treatment. The results of the treatment can last longer for patients with multiple treatment sessions.
Results of Cryo Cold Chamber Treatments
You don't need to have a specific ailment in mind to enjoy the benefits of a Cryo Cold Chamber session. Many patients report elevated energy levels and a general sense of well-being following their session.
Traditional Uses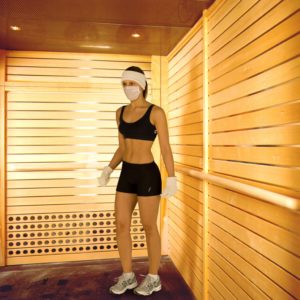 Traditionally, patients that have completed a series of Cryo Cold Chamber treatments have noted improvement with:
Rheumatoid arthritis
Osteoarthritis
Fibromyalgia
Chronic pain (accompanied by inflammation)
Spinal syndromes
Tendopathies
Multiple Sclerosis
Blunt joint trauma
Psoriasis
Bronchial asthma
Central fatigue
Sleep disorders
Athletes and Recovery Time
A growing application for Cryo Cold Chamber treatments is aiding in reducing the length of recovery time for athletes post injury or surgery. The treatment can be used before and after surgical repair of joints, ligaments and muscles to control the swelling and aid in the flow of oxygen and nutrition to the affected area.
After a Cryo Cold Chamber treatment, athletes have experienced pain relief that can last several hours, perfect for conducting movement in physical therapy and manual treatments.
Dare to Experience the Cryo Cold Chamber
Although the idea of being enclosed in a chillingly -110°C / -166°F chamber can no doubt be daunting, the treatment can be an effective and invigorating experience.
To maximize your benefit of the Cryo Cold Chamber it is recommended that you complete a series of treatments once or twice daily over the course of 10 to 30 days. As one of Sparkling Hill Resort's signature treatments, the Cryo Cold Chamber is the only KurSpa treatment that is available to the public without a stay at the Resort.
Learn more about the Cryo Cold Chamber at Sparkling Hill Resort.