A visit to Predator Ridge Resort during the holiday season might just have you thinking you've stepped into the North Pole. Sparkling lights, snow capped trees and holiday cheer can be found in every corner of the resort this season, along with a number of activities suited for the whole family.
Predator Ridge Transforms Into A Twinkling Wonderland
All is merry and bright at Predator Ridge when over 70,000 holiday lights get hung around the community. In addition to the lights we put up, the residents in our over 800 home community also deck out their homes and participate in our annual Christmas Light Up competition. Judging for the competition takes place around the middle of December, so the days leading up to Christmas are prime time to take a leisurely drive around the community and take in the magical holiday displays. Note that the speed limit in our neighbourhoods is 30km/h, which we ask all visitors to respect.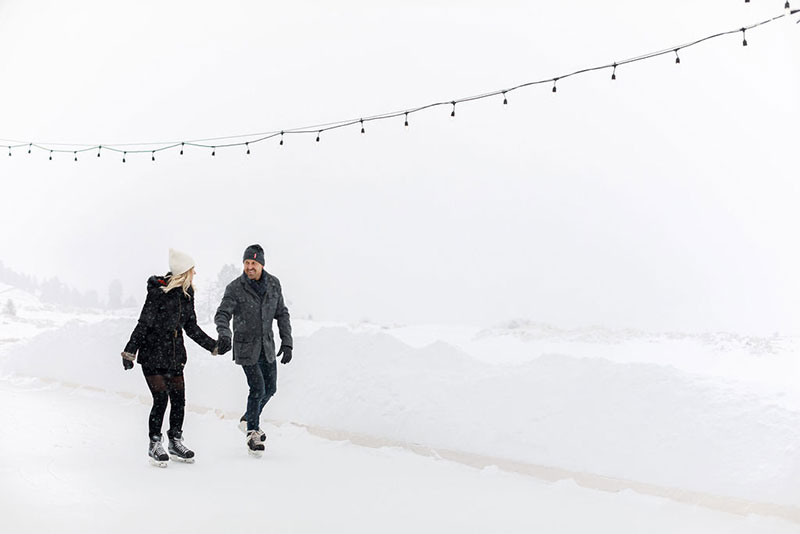 Sharpen Your Blades For A Winter Skate
A true benefit of living at Predator Ridge is access to our skating rink in the winter months. The outdoor rink is open to residents and resort guests, and opens in early December. Nothing says Canadian winter like a skate on the ODR!  Stay tuned for public skate night
dates which are published on our events calendar.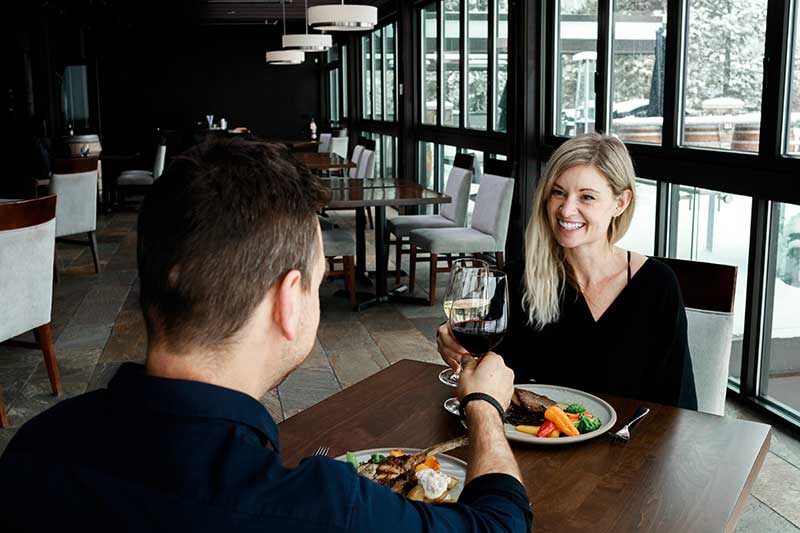 Eat, Drink & Be Merry
After a day of holiday activities, you're bound to need a delicious bite to eat, and Range Lounge & Grill and Pallino's can provide. Range Lounge & Grill offers upscale dining Wednesday-Sunday between 4:00 p.m. and 9:30 p.m. Pallino's is a casual-style restaurant serving up your favourite Italian dishes Monday-Tuesday between 11:00 a.m. and 9:30 p.m. and Wednesday-Sunday between 11:00 a.m. and 4:00 p.m.
In addition to regular dining, you may also attend theme nights at Range Lounge & Grill, including a Holiday Baking Class on December 2nd.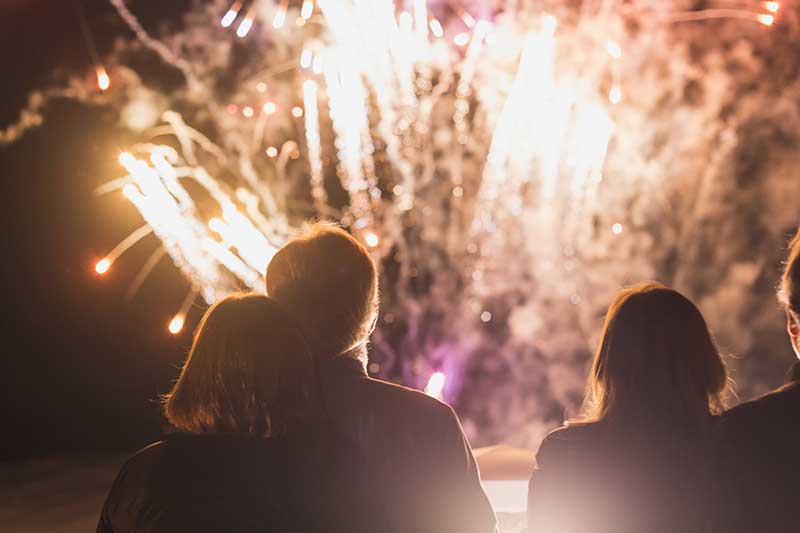 Experience A Fireworks Spectacular
In 2021, Predator Ridge will be hosting a fireworks show on both December 24th and December 31st this year. Look to the skies for a spectacular show to celebrate the holiday season. More details on these events will be released on our Events Calendar soon!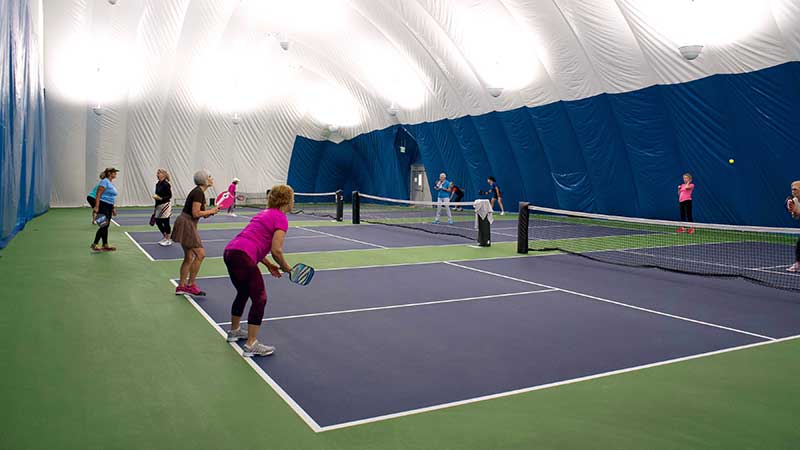 Stay Active On The Pickleball Court
We highly recommend indulging in all of the holiday treats that you want this season, but if you're also looking to stay active, drop-in pickleball may be just what you need. With four dedicated pickleball courts in our bubble designated for year-round play, there is plenty of opportunity for residents, guests and the general public to drop-in for a game. Pickleball memberships are also available at the Commons Racquet Club.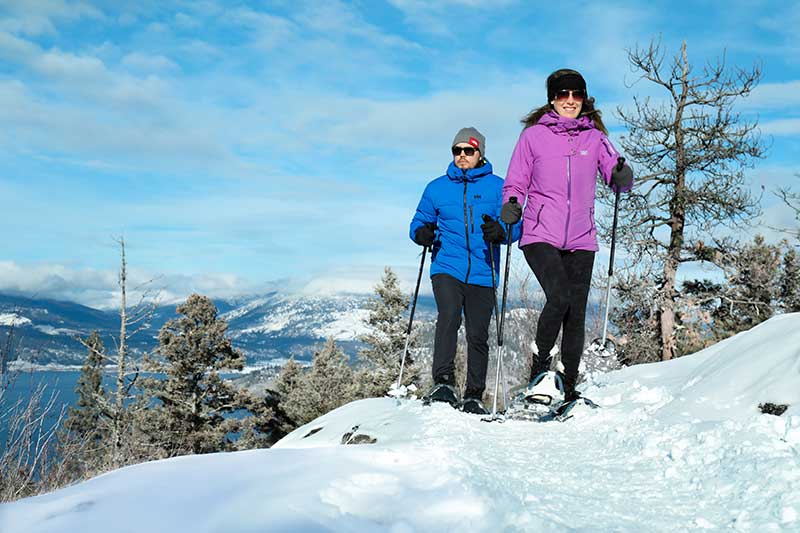 Explore The Okanagan's North Pole On Snowshoe
When that fluffy white snow hits the ground at Predator Ridge, you'll love exploring our 1,300 acres on snowshoes. We have rentals available and marked trails to guide you on your snowshoe adventure. If a casual hike is more up your alley, we have a number of great hiking trails, no matter the weather, and paved golf cart paths to explore the property on foot.
Find Endless Winter Fun At Predator Ridge
As the most amenity-rich resort in the Okanagan, you'll never run out of things to do at Predator Ridge Resort, including during the winter months. We have tons of winter activities to enjoy, from snowy hikes and Nordic skiing to golf simulators and indoor pickleball and tennis.
Between November and March, we are open for limited overnight accommodation, but have lots of long-term rentals available.
Predator Ridge Resort is a truly magical place to be during the holiday season. Residents and visitors alike can enjoy many of the festive events, displays and activities that make winter and the holidays fun for the whole family.
To learn more about winter and the holiday season at Predator Ridge, please give us a call at 250-542-3436 or email info[at]predatorridge.com.