We know it's easy to let your resolutions fall by the wayside – that's why we've come up with a list of ways Big White Ski Resort can help you stick to them! We can do so much more than just help you lose weight or try something new. We'll bring you closer to family, introduce you to new friends, take the hassle out of planning a trip, renew your connection to nature – and, save you money while we're at it! You're not in this alone – let's resolve whatever your resolution is, together.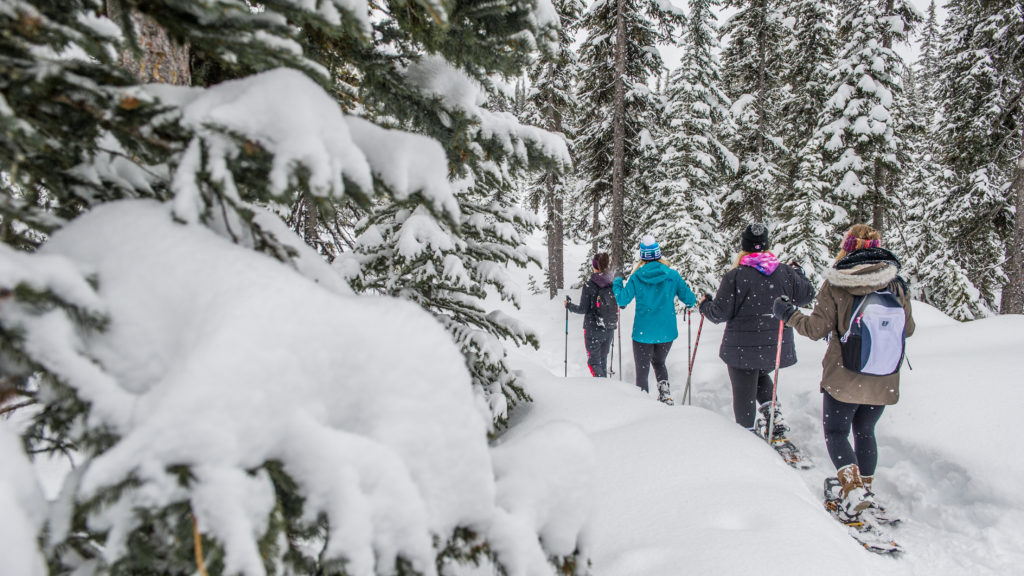 I Resolve to: Lose Weight
A mix of endurance and resistance training, both skiing and snowboarding are great for circulation, balance, flexibility, agility and heart health – not to mention the full lower body workout. Depending on your weight, if you spend even a half hour pushing powder, you can burn between 220 and 260 calories. Research also points to the mental health benefits of working out in a beautiful setting – take the view of the Monashee and Selkirk mountain ranges as an example – and the fat-burning potential of cold weather.
Not into the downhill sports? Big White has 25 kilometres of Nordic, or cross-country, skiing trails. Nordic skiing burns even more calories than downhill skiing – for a 70kg person, 30 minutes of cross-country skiing burns nearly 300 calories. Snowshoeing and ice skating also have a high level of caloric burn. 
Get your zen on while you get fit! Did you know our on-mountain yoga studio offers a full range of classes for beginners and experts alike every day except Tuesday? Mountain Yoga, located in Stonebridge Lodge, is the world's ONLY ski-in/ski-out yoga studio.
I Resolve to: Eat Healthier
Après Ski doesn't have to mean burgers and beers! The Caf in Happy Valley Day Lodge offers quick and healthy grab-and-go meal options, including salads and wraps, as well as fruit cups and parfaits for breakfast. 
Our fully-equipped on-mountain market will make cooking from your condo a non-issue, and if you plan a few days in advance, Vacation Food Service will stock your pantry with all the ingredients you need to feed your family only the healthiest of foods.
Have dietary restrictions? Gluten-free eaters can still have a little taste of Canadiana with The BullWheel's gluten-free poutine. Or, try the traditional Irish pub fare at The Blarney Stone Irish Tavern – all of the gravies served are gluten-free friendly. Vegetarians, try The Underground's fully-loaded half-pipe pizza, and vegans, we recommend the Bubble & Squeak Burger at The Blarney Stone and the Korean BBQ Cauliflower at Globe Cafe. 
A huge part of being healthy is staying hydrated. Since opening, we've filled over 15,000 water bottles at our water refill stations in the Village Centre Mall and in the Happy Valley Day Lodge. If you forget your reusable water bottles, there are Big White ones available for purchase at our retail stores in the Village Centre Mall. Our water, from Rhonda Lake at the top of the Bullet Chair, is some of the best water in the world. Why not meet your resolution to be more environmentally friendly at the same time as being healthy and hydrated?
I Resolve to: Become Closer to My Family
When was the last time you spent seven consecutive hours with your teenagers? There are no closed doors on the ski slopes, and we wouldn't recommend anyone try to walk away from a conversation while on a chairlift.
The bonding doesn't have to stop when the lifts stop spinning. We organize family-friendly events every night down at the Happy Valley Day Lodge, like Bingo Tuesdays and Trivia Thursdays. Or, head to the Adventure Centre next door. Grab a tube and challenge the kids to a race. Cosy up on a horse-drawn sleigh ride through Big White's backcountry. Strap on some crampons, grab an ice axe and climb our impressive 60-foot ice tower. With four sides, there's a way up for every ability level.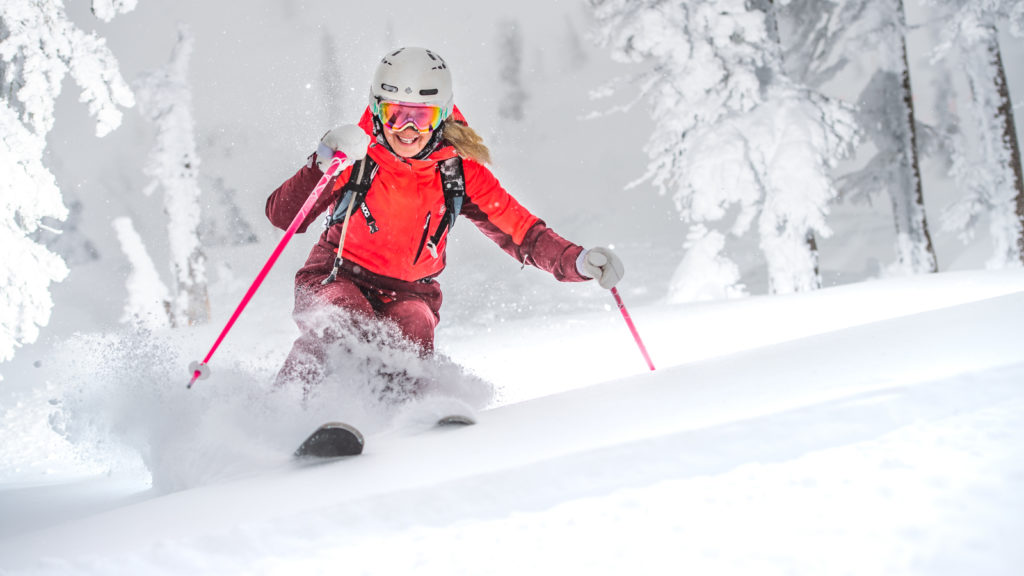 I Resolve to: Learn Something New
Never skied or boarded before? Our Discover Half Day and Full Day packages are a great way to find your ski legs in a fun and safe group lesson environment. The Next Step program then provides the perfect way to progress new ski and snowboard skills.
If you're an old pro, that doesn't mean there isn't still lots to learn! Treat yourself to a private lesson, and have one of our professionally certified ski pros guide you around the mountain at your own pace, and on the runs that you want to ski.

Looking to up your park game? Join Park Chics, a team of female snowboard and ski coaches that take female riders through the terrain park n Thursday nights and Saturday afternoons. Run by girls for girls, Park Chics caters to all levels, from beginners through to advanced.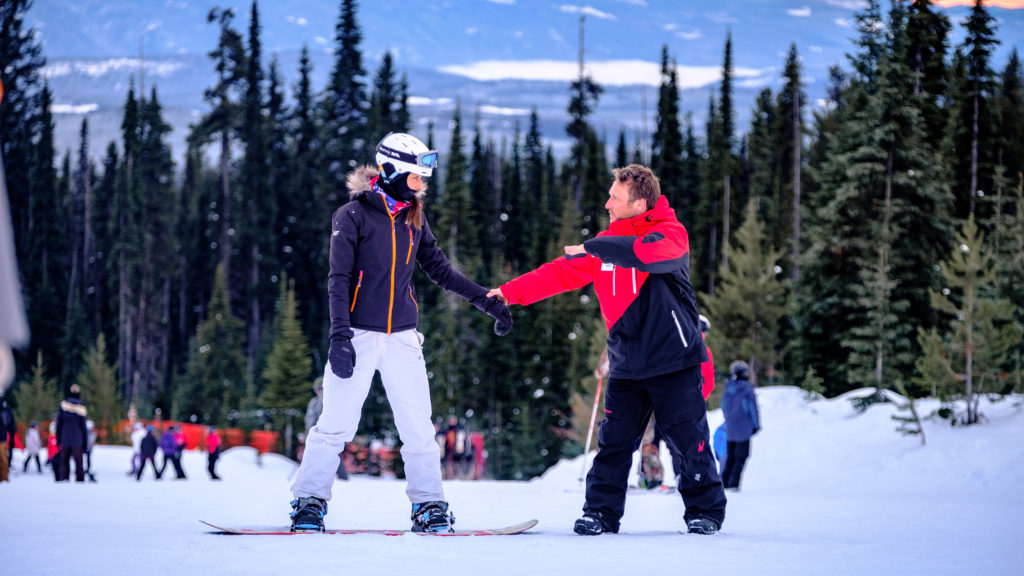 I Resolve to: Take a Vacation
Whatever your budget, our Central Reservations team will help you plan a scrapbook-worthy getaway to Big White from the moment your plane hits the tarmac to checking out on your last day. 
In January 2019, stay at the Whitefoot Lodge, located in the Village with unbeatable ski-in, ski-out access, and get your lift tickets for as low as $142 per day. If you're on the hunt for something more luxurious, share a 2-bedroom executive condo with a private hot tub at the Stonebridge Lodge for just $212 midweek. And, if you book three nights between January 2 and 31, 2019, your fourth night is on us!
Contact our Concierge desk about what's happening on the mountain during your stay. They'll line you up with tickets, tours and all the insider knowledge you need to make your trip as enjoyable as possible. 
While you're here, don't forget to strike a pose in front of our world-renowned snow ghosts. The Insta-worthy backdrop will no-doubt make your friends back home white with vacay envy!
I Resolve to: Save Money
With our Biggie Cards, the more you ski, the more you save! Available for purchase at partner ski and board shops in B.C. and Alberta, the Biggie Card allows adults to save up to $40 during peak season, and $55 on subsequent days if they reload online during the 2018/2019 season. Locals never need to pay full price. 
And be sure to check out our Last Minute Deals. This page is updated regularly, giving you access to all of the best specials on the mountain.
Our weekly events calendar is packed with events that are family-friendly and completely free – including skating! For just the cost of your rentals, start a game of shinny on Canada's Highest Skating Rink, and on Wednesdays, Fridays and Saturdays warm up rink-side with a bonfire and free hot chocolate. On Saturdays, stick around until 8:15 pm and take in our weekly fireworks display. 
Join our Snow Hosts for a free tour of the mountain. They'll show you the best spots on the mountain – known only to locals – for absolutely no cost! Find them in bright yellow jackets outside Dizzy's every day at 10:15 am.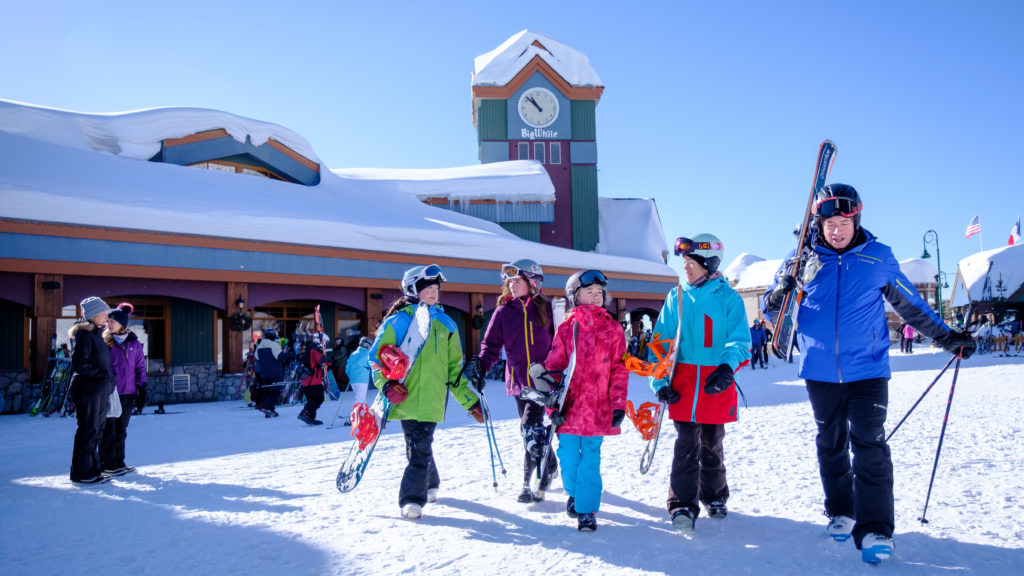 I Resolve to: Make New Friends
You never know who you'll meet on a chairlift, or sitting around a bonfire at The Woods, but no matter what, you'll already have one thing in common – a passion for powder! Big White has hundreds of thousands of unique skier visits every year, from dozens of countries, and of every age, meaning there's a stranger around every corner just waiting to add you on Facebook. 
Bond over bruised tailbones with someone new during a group snowboard lesson, then meet them later for Après Ski down in Happy Valley. Before you know it, you'll be singing a duet for Tuesday Karaoke Nights at Snowshoe Sam's!
I Resolve to: Connect with Nature
Our completely ski-in, ski-out Village provides you with all the amenities to make your stay comfortable, yet allows you to connect with nature every time you step out your front door. Watch the sky twinkle with stars on a clear night – and in the morning, when the sun is rising, transform into a cotton-candy coloured canvas.
Put down that phone and strap on some goggles; trade in screen time for snow time; and replace your favourite armchair with a ski lift. Head to the top of the Alpine T-Bar and soak in some vitamin D while soaking in the panoramic view of the Monashee and Selkirk mountain ranges. The air has never tasted fresher.