From towing around car seats to packing enough diapers, we know planning a holiday with children requires a lot of, well, extra planning. We know this because we pride ourselves in being a family-friendly resort – in fact, we know this so well, we've consistently been voted Canada's Favourite Family Resort! To make your trip more fun and less frantic, we've put together a list of ways to keep the kids entertained while you're on the slopes, as well as events and activities you can do together as a family and finally, tricks to keep meltdowns (yours and theirs) to a minimum.

Avoid the Lines!
Looking to hit the slopes early? The Big White Kids' Centre opens registration at 8:30 am and will supervise your children prior to them going out in their morning lesson. The busiest drop-off times start at 9:15 am, but line-ups can be easily avoided with an earlier drop-off. Drop-offs are much quicker if parents have pre-registered their children prior to arriving on the day of the lesson.

We also recommend getting to rentals before the 9:00 am rush. Our rental shop opens at 8:00 am, and lessons begin at 10:00 am – the earlier you get there, the sooner you'll be able to get your equipment and have the kids sorted in time for their lessons.

Or, skip the line completely! If your children are pre-registered, and already have ski or board basics, our instructors will come to your hotel or condo to pick up your kids and drop them off at the end of the day for a small charge.


Pre-Register to Save Time
For those who have pre-registered their child in a lesson and booked their stay via Big White Central Reservations, your child's bar code labels will be dropped off at Big White Central Mountain Check-In and become a part of your check-in package. For season passholders with early bird vouchers, the registration link is found on the front of the voucher and can be accessed up until midnight the day before a lesson is to be attended.

If you pre-register, drop-off is complete in a matter of seconds by us simply scanning the bar code label of your child, putting a vest or armband on the younger children and attaching a Flaik GPS tag for all children in group lessons. You will not be penalized if you cancel the lesson the day of, or even once the lesson has departed if for some reason your child decides he or she doesn't want to go out.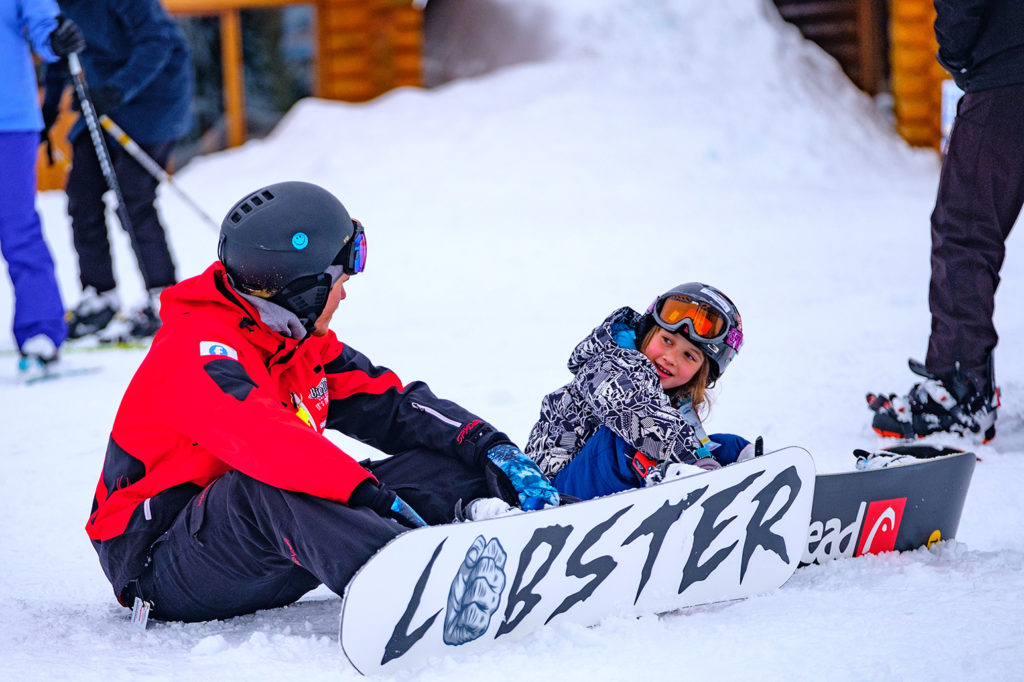 Beginner Lessons for Every Type of Beginner
We have a variety of programs that cater to our younger clientele, whether they are avid skiers already or more anxious about the experience. For the go-getters, we have our regular 5 ability levels for 3 to 4-year-olds. For those who might experience separation anxiety, the best program is the Mom/Dad & Me Are Skiing. Designed for the young beginner skier who is reluctant to part with Mom or Dad, the instructor introduces the child to skiing while also offering to tips to parents about how they can encourage their child to continue skiing and improve along the way.
The Daycare Plus program is especially popular for the younger kids who may not have the stamina for a full day or even a half day lesson. We offer parents a full day of daycare for their child, with the additional option of choosing a one-hour private lesson, or a two-hour group lesson if the child is three or older. It is one of the best ways for parents to hit the slopes and know their child is not only looked after, but learning to ski or board in a safe, fun environment, and getting in that all-important nap.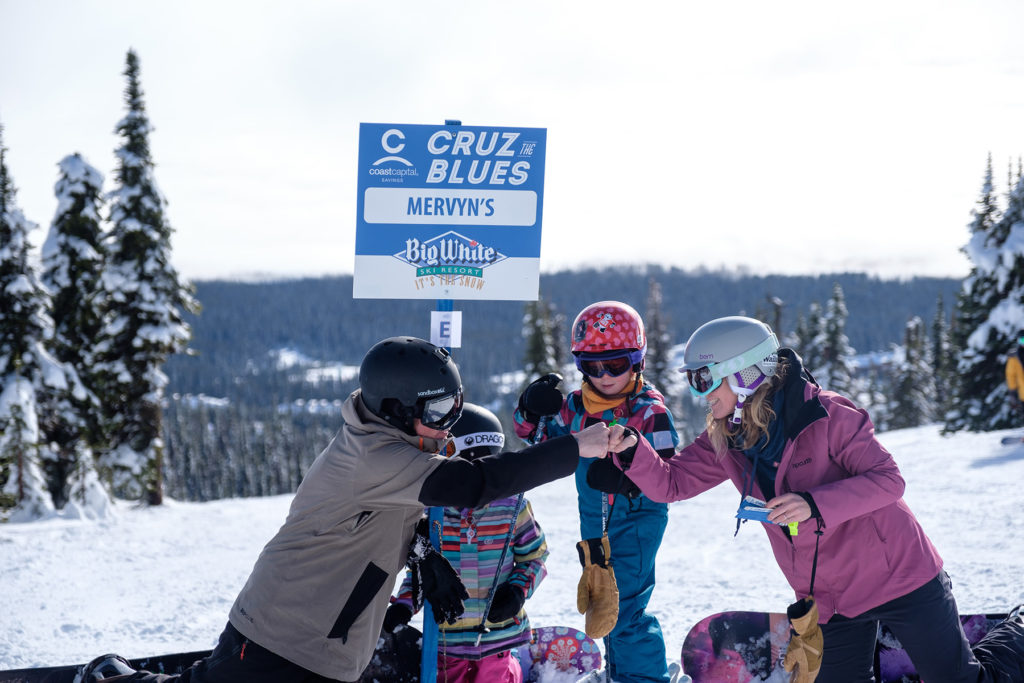 On the Slopes
With over 2.5 kilometres of lit-up terrain, the kids can keep practising the skills they learned during the day well into the evening. The Bullet Chair and Plaza Chair continue to run at night on Tuesday through Saturday, and Telus Park Chair joins the mix on Thursdays, Fridays and Saturdays. On Friday nights, take advantage of our $10 deal! Rentals, beginner lessons, tickets, dinner and even tubing – all just $10.

Our Coast Capital Savings Cruz the Blues runs multiple weekends throughout the season, so be sure to check if it's on while you visit. The perfect way to explore the mountain, Coast Capital Savings Cruz the Blues challenges you to shred all of Big White's open blue runs in just two days. Register at the Concierge Desk – they'll give you a boarding pass and explain how you and your family can head home with some awesome prizes.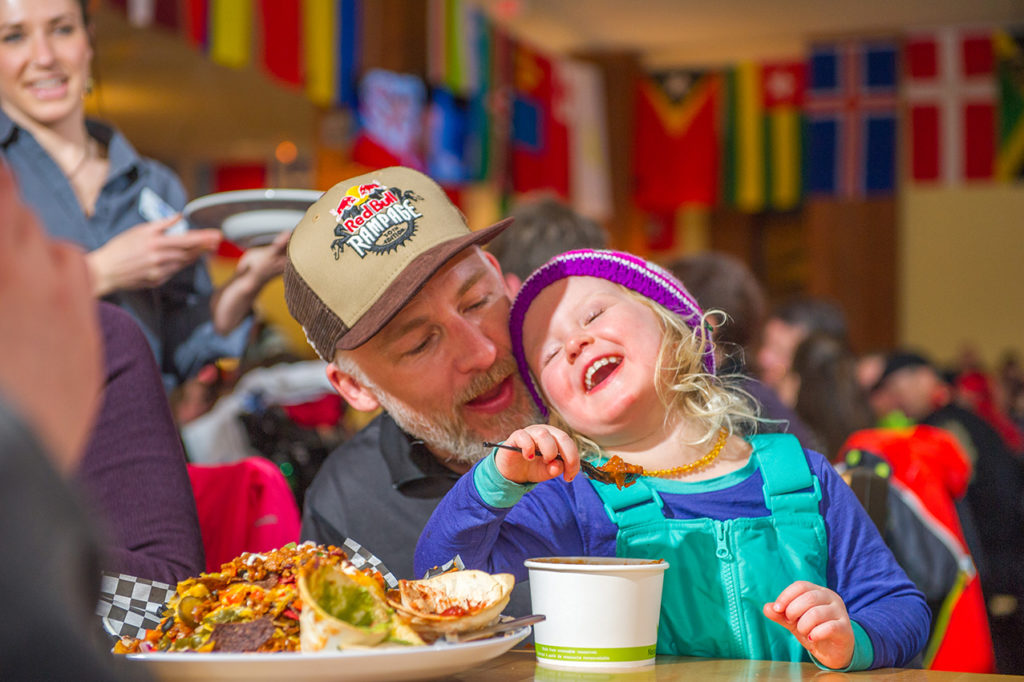 Daily, Family-Friendly Events
Big White hosts a Family Channel Carnival Night every Thursday and Saturday at the Village Centre Mall. Let the kids unload energy in the bouncy castle while you snack on free popcorn and cotton candy. The night also includes carnival games, face painting, and a visit from Loose Moose!

On Tuesdays, bring them down to Moose Lounge in Happy Valley for Kids Craft Corner. Sip on a well-deserved apres ski bevvy and enjoy Moose Lounge's delicious appies while your kids create, play and explore. And Fridays are for freaky fun! Each week, our events team plans a different activity – always packed with surprises and silliness!

Pay for just your rentals at Canada's Highest Skating Rink, and challenge the family to a game of shinny. Warm up beside the skating rink on Wednesdays, Fridays and Saturdays with a free cup of hot chocolate and a bonfire, then stick around Saturday night for our weekly fireworks display.

Finally, be sure to keep an eye out for our Family Channel events such as our Jr. Chef Challenges and our Snow Ninja Challenge – these are scheduled regularly throughout the season and can be found on our Events Calendar.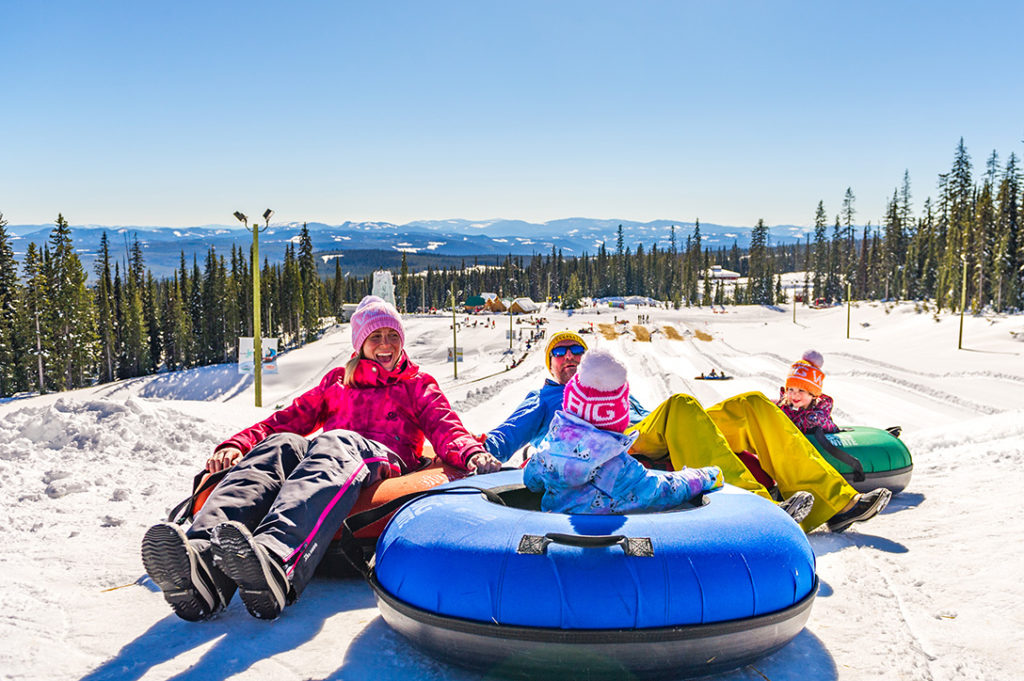 Adventure Centre
Our Adventure Centre in Happy Valley is jampacked with kid-friendly activities, from tubing to ice-climbing to ripping through Big White's backcountry on a dog sled! Book your family a ride on our old-fashioned horse-drawn sleigh – cozy up under a blanket and enjoy hot chocolate while gliding through snow-covered forest trails.

Give your child an opportunity to try out snowmobiling in a safe environment with our Mini-Z miniature snowmobiles. It's $20 for 10 minutes, and tickets can be purchased at the Snowmobile Hut in the Happy Valley Adventure Centre. Or, go out for a snowmobile tour as a family! Snowmobiling is an exhilarating way to view Big White's stunning backcountry, and we have a variety of daily Canadian snowmobiling tours catered to all skill levels and time frames.

Relax, you're on holidays
Leave the carry-ons at home, and rent what you need to make your stay comfortable from The Tiny Tourist. The Okanagan-based business rents out everything from car seats to baby gates to toys – saving you the hassle of hauling it with you on the airline – and they'll deliver right to your Big White condo or hotel!

It's easy to forget you're on vacation when you're packing around toddlers! If you're looking for a grown-ups-only night out, or maybe just an hour of me-time, we recommend Big White Sitters. Their sitters are trusted, checked and experienced – and are available for whatever you need!

Take an hour or two off, and head to Elevation Spa, next to Central Mountain Check-In in the lower level of the Village Centre Mall. Treat yourself to a relaxation massage, pamper yourself with a facial, or indulge in a reflexology treatment.

Enjoy a pint of craft beer from our on-mountain brewery Elevation 57 at Sessions Taphouse, or, take your partner to a romantic dinner at Kettle Valley Steakhouse. Then, when you get home, have your after-dinner drinks delivered right to your door. Our Beer & Wine Store in the lower level of the Village Centre Mall will take your order online and bring it to you. With around 100 locally sourced Okanagan wines, a selection of craft beers and ciders, and artisanal spirits, the Beer & Wine Store has something for every taste.

Remember, it's your holiday, too!