Artwork Credit: Magic and Flow Media
August 2023 brought a fierce challenge to the Okanagan, as wildfires raged through our beloved region. In the face of adversity, our community stood united, demonstrating an inspiring spirit of resilience, compassion, and support. As we recount the trials and triumphs of these challenging times, we find hope in the midst of devastation and express our immense gratitude to the first responders and the entire community. In this blog, we reflect on the journey, celebrate our community's unwavering strength, and introduce a special initiative aimed at both recovery and rejuvenation.
A Blaze Unleashed
The evening of August 15th marked the beginning of a relentless wildfire journey for the Okanagan. The McDougall Creek fire was discovered as a spot fire on this day. While firefighters were attending to it then, hot and windy conditions to come changed the course of West Kelowna forever. From August 16th to 17th, what began as merely a spot swiftly grew into a raging inferno, tripling in size within 24 hours. On August 17th, the flames quickly devoured the landscape down Westside Road, forcing thousands to evacuate the city of West Kelowna with such little notice that many belongings were left behind. This wildfire left a trail of destruction in its wake, and yet was only the beginning of the devastation.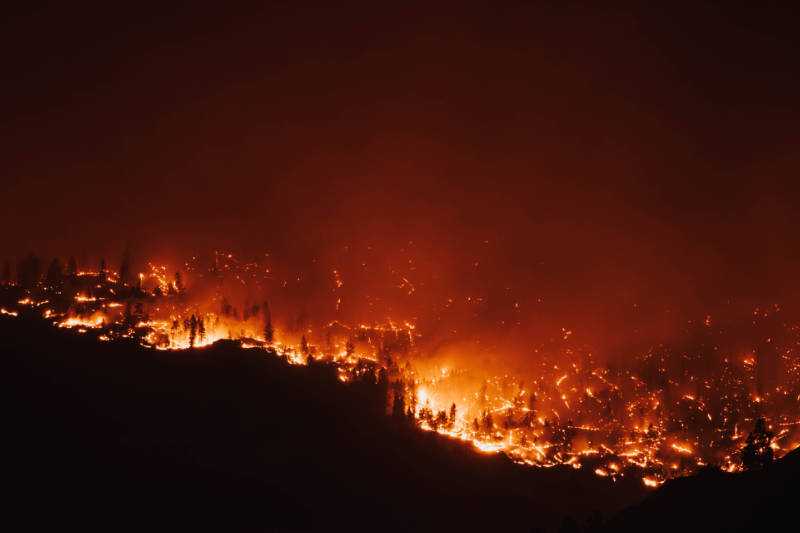 Spot fires popped up across the lake the evening of the 17th as well, likely from embers raining down from the McDougall creek wildfires. These spot fires began engulfing communities within Kelowna and Lake Country as well, forcing many more to evacuate their homes. This instilled a sense of fear over much of the Okanagan community, leading to gas shortages, thousands without a place to stay or basic necessities. Homes were lost, properties damaged, and the air quality deteriorated rapidly to amongst the worst in the world. The impact was felt far beyond the reaches of the flames.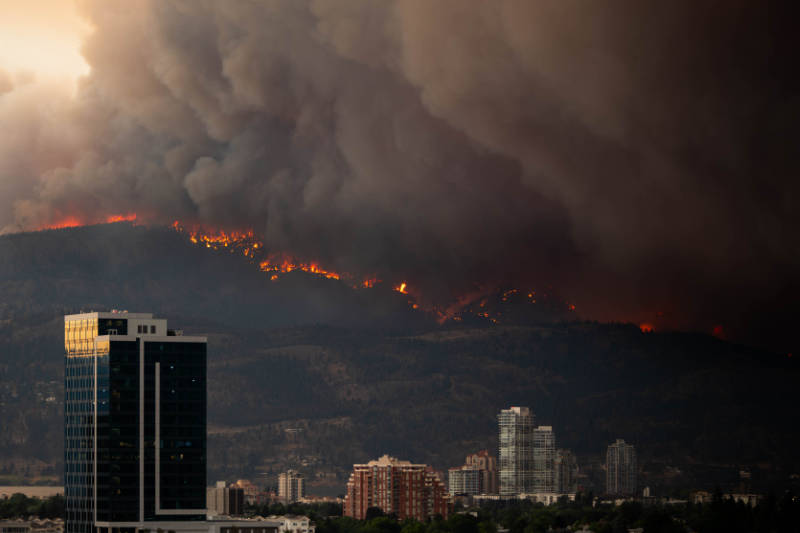 Rallying Together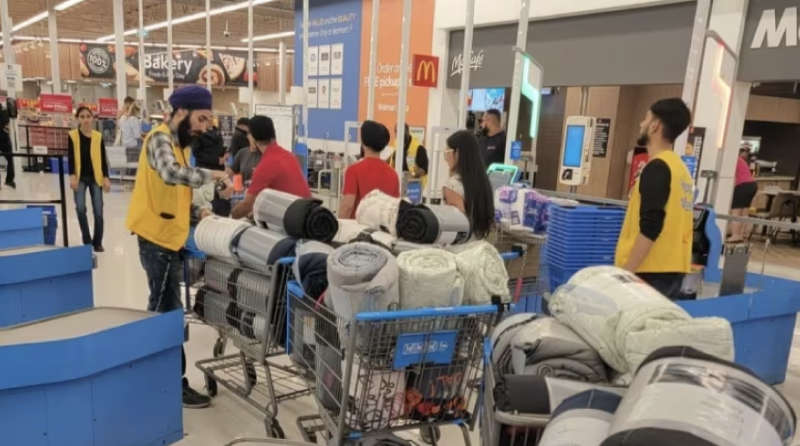 Amidst the turmoil, a remarkable spirit of unity emerged. Businesses and individuals alike extended their hands in support. Free food was offered to evacuees, and essential donations flooded in. The generosity of our community members shone brightly as strangers opened their homes to those in need. With profound compassion, local businesses donated proceeds, including the Eldorado Resort. Hotel Eldorado and Manteo pledged to donate 15% of proceeds from their #okanaganstrong offer to local charities actively aiding wildfire relief efforts. Argus Hospitality's other properties including the Four Points Kelowna Airport, and Hampton Inn and Suites Kelowna have likewise adopted this initiative. The Central Okanagan Food Bank, Mamas for Mamas, and the Salvation Army are some of the incredible organizations who have helped our community throughout this emergency, and will be amongst the charitable organizations that these contributions go towards.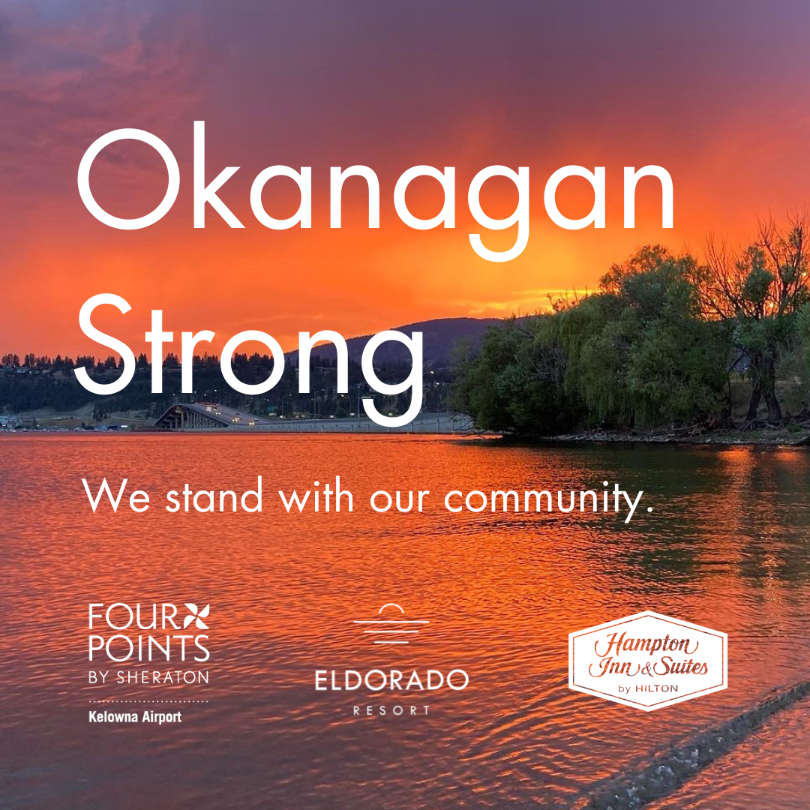 Book Hotel Eldorado's #okanaganstrong offer. Book Manteo's #okanaganstrong offer.
Rising from the Ashes
Though adversity has tested our community, hope remains steadfast. The Okanagan's indomitable spirit prevails, as we unite to rebuild and rejuvenate. Through the trials, we witnessed the strength that lies within the hearts of each individual, and the power that arises when we stand together. The first responders, tirelessly battling the flames, became our heroes, demonstrating courage beyond measure. The spirit of #OkanaganStrong isn't just a hashtag; it's a testament to our collective determination.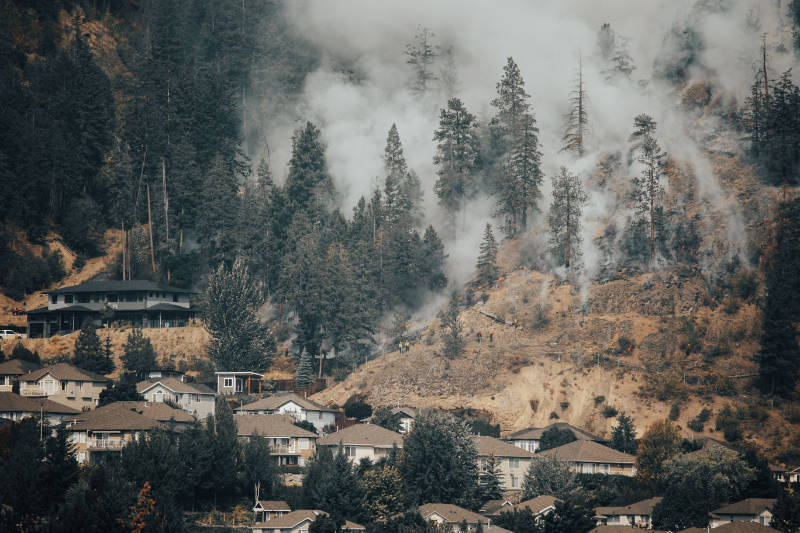 An Invitation to Rejuvenate and Contribute
As we navigate these times, we extend an invitation to be part of our rejuvenation journey. Whether it's donating food, clothes, or money from your pocket, your contributions make all the difference. When you book your stay at Hotel Eldorado or Manteo through the #okanaganstrong offer, you're not just indulging in a luxurious experience; you're contributing to wildfire relief efforts that are still ongoing. Your choice plays a pivotal role in supporting local charities that are actively making a difference in our community's recovery.
Together, We Are #OkanaganStrong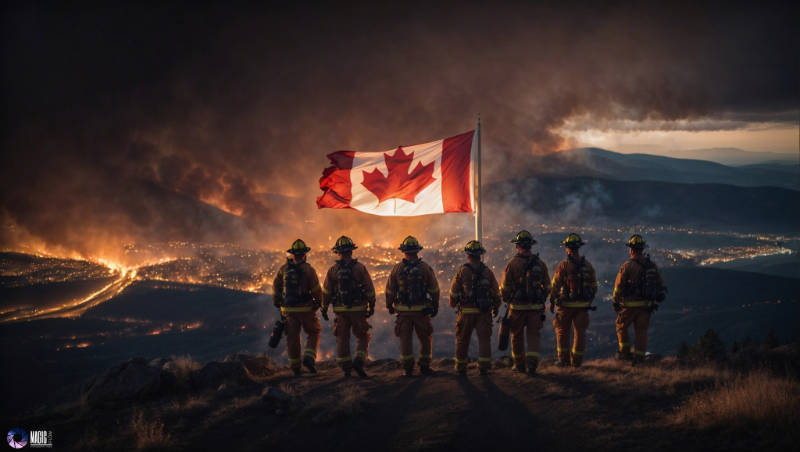 August 2023 will be etched in our collective memory as a time of challenges, resilience, and unity. From the raging fires to the outpouring of support, we've witnessed the best of humanity shining through. With the flames subsiding, the ashes will give birth to new beginnings. We express our heartfelt gratitude to every first responder, every community member, and every individual who stood by our side. As we move forward, we do so with the conviction that we are indeed #OkanaganStrong, a community bound by courage, compassion, and hope.